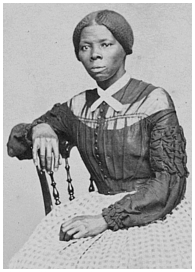 "I had reasoned dis out in my mind;
there was one of two things I had
a right to, liberty, or death; if I could
not have one, I would have de oder;
for no man should take me alive;
I should fight for my liberty as long
as my strength lasted, and when
de time came for me to go, de Lord
would let dem take me."
EQUIPMENT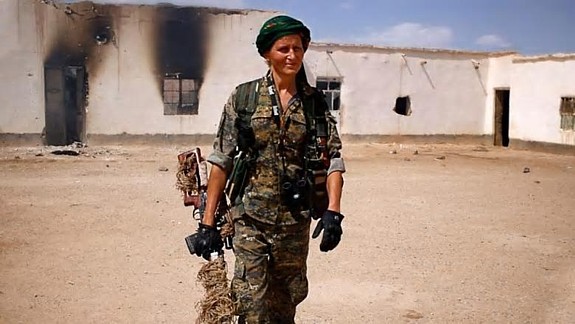 YPJ fighter: Hanna Bohman pictured in Syria with an SVD sniper rifle. She travelled to the Middle East in 2014 to help the Kurds in their fight against ISIS. The 2017 documentary Fear Us Women about the Women's Protection Units (YPJ) is told through her experiences. She first made contact with YPJ recruiters online and has served with the YPJ in Iraq and Syria. She had no prior military experience.


The following items are recommended for members of the unorganized militia. A 9x19mm handgun is also desirable, ideally the proven Glock Gen3 G19 (with four magazines).

1. Rifle and associated equipment
1.1 Rifle with sling and spare parts kit.*
1.2 Six mags if detachable mags used.
1.3 1,000 rounds (ideally barrier penetrating).
1.4 Cleaning kit (e.g., Otis Technology Defender Series).
1.5 Broken Shell Extractor (e.g., Brownells).
1.6 Earplugs (e.g., SureFire EP4 Sonic Defenders).
1.7 Protective eyewear (e.g., Fuglies ADF4 Ballistics).
1.8 Dry firing aid (e.g., Lyman A-Zoom Snap Caps).
1.9 Soft rifle case with pockets for accessories.

* Service rifle or sniper rifle commonly used by soldiers or a rifle that uses the same ammunition.
Spare parts like those in the Red Army Standard Field Kit (for AK-47 type rifles) from Century Arms.

2. Miscellaneous equipment
2.1 Chest rig, vest or webbing (e.g., Condor MCR6).
2.2 Handheld transceiver (e.g., Yaesu VX-6R).
2.3 Binoculars (e.g., Bushnell 8x32 Prime).
2.4 Watch (e.g., Casio DW5600E-1V G-Shock).
2.5 Local map and compass (e.g., Silva 4-6400/360).
2.6 Notebook and pen (e.g., Rite in the Rain Kit).
2.7 Knife or bayonet (e.g., Glock FM 81 Survival Knife).
2.8 Multitool (e.g., SOG PowerLock EOD Scissors).
2.9 Flashlight (e.g., Gerber Recon-M Flashlight).
2.10 First aid kit (e.g., TacMed Operator IFAK).
2.11 Gas mask* (e.g., Duram Mask CHEMBAYO - black variant).
2.12 BDU with boots and beret.

* Hood type masks like the CHEMBAYO work far better with glasses than conventional gas masks.

3. Books & Videos
This PDF contains a list of recommended Books & Videos.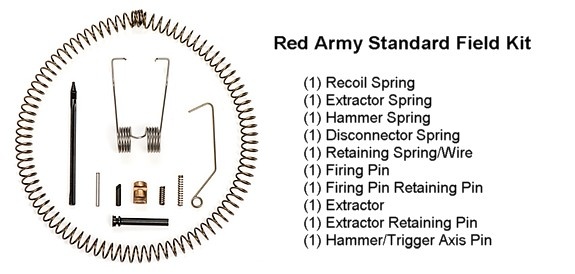 Repair Kit: A field repair kit with the essential spare parts should accompany every firearm in the field (along with a multitool), like the one above from Century Arms for AK-47 type rifles. Namely springs for stressed firing group components, firing pin, extractor, and associated small pins (readily lost or damaged during an emergency field repair). Replace said springs with a spring kit every 5,000 rounds. Ideally one would also own an armorer's repair kit with a wider range of spare parts.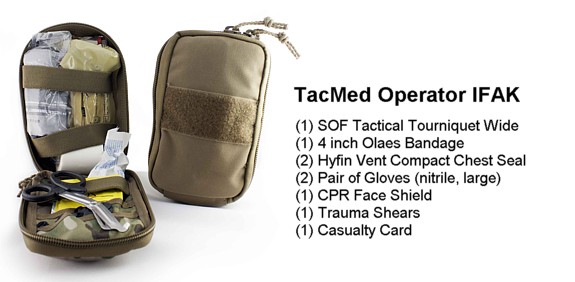 Operator IFAK: The TacMed Operator IFAK contains the following items: 1x SOF Tactical Tourniquet Wide; 1x 4 inch Olaes Bandage; 2x Hyfin Vent Compact Chest Seal (twin pack); 2x Pair of Gloves (nitrile, large); 1x CPR Face Shield; 1x Trauma Shears; 1x Casualty Card. It is best accompanied with a small mirror (like the ASP Tactical Mirror which can also be used for signaling and looking around corners without exposing yourself to enemy fire), 10 Leukostrip wound closure strips, and tweezers (e.g., Ideal-tek OOD.SA.0).



Binoculars and Rangefinders: Binoculars like Bushnell's 8x32mm Prime (16.9 oz) are essential, though you may prefer those with a rangefinding reticle like Steiner's M830r (18.7 oz). A laser rangefinder like Bushnell's Elite 1 Mile ARC CONX monocular (12.1 oz, 1x CR123) is the quickest and most accurate way to range objects, though you may prefer binoculars with this feature like the Bushnell 8x32 Fusion (30.8 oz, 1x CR123) or the Steiner M830r LRF (33 oz, 1x CR2).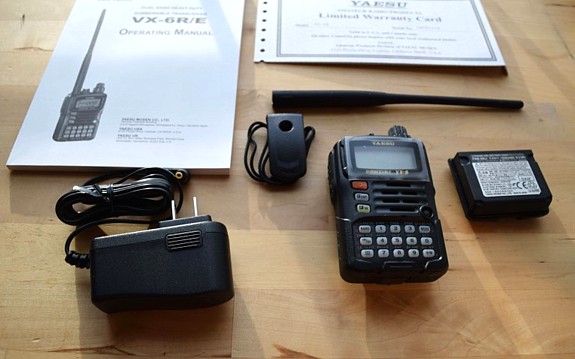 Yaesu VX-6R/E: The Yaesu VX-6R/E with FNB-80LI Rechargeable Lithium Ion Battery Pack (7.4 v, 1,400 mAh), PA-48C/U 5-Hour Battery Charger (European User, 230-240 VAC), YHA-67 Antenna, Belt Clip, Manual and Warranty Card. The FB-23 2 x "AA" Cell Battery Case and CMP460A Waterproof Speaker/Microphone are highly desirable, as is the VC-27 Ear piece/Microphone for covert use. The TACK 1 and Patrol II headsets (PTT included) from TCI are recommended for overt tactical use.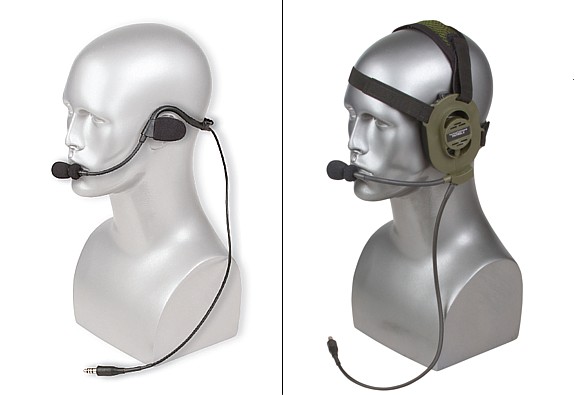 TCI headsets: The TACK 1 headset (left) and the Patrol II Single Comm Tactical Headset from TCI are recommended for Yaesu's VX-6R/E (Vertex/Yaesu 1-Pin Threaded/Waterproof Interface - VXWTR). The Patrol II was designed for use by tactical teams engaged in prolonged missions and works best with British (Mk 5 and later) ballistic helmets and US (PASGT and later) ballistic helmets, but not helmets like the Schuberth 826 with a headband that is not compatible with the earcup.



Chest Rigs: The Condor MCR6 Rapid Assault Chest Rig (for 30 round AR mags) pictured on the left and the Strike Hard Gear AK 47 Chest Rig (for 30 round AK mags) store a single row of mags to facilitate discreet use. These Nylon chest rigs are available in black, while more pouches can be added via MOLLE straps. More kit can be stored in the central compartment behind the pouches. AK type chest rigs are more versatile as it can also be used to carry the smaller AR (M16/M4) mags.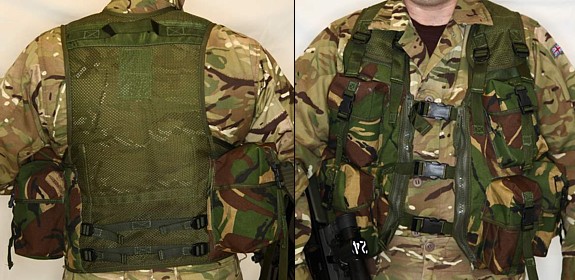 Waistcoat Mans General Purpose Ops (Assault Combat Vest 95): This versatile vest been used by the British Army since 1995. It has eight pouches, two of them mag pouches for 30 round AR mags (three per pouch) but can be modified to accept two 20 round AK mags. It has two huge zipped storage areas under the front pouches (left one has a pistol holster). In addition to the original temperate DPM model pictured are desert DPM, US 3-color desert, green and black variants. Silvermans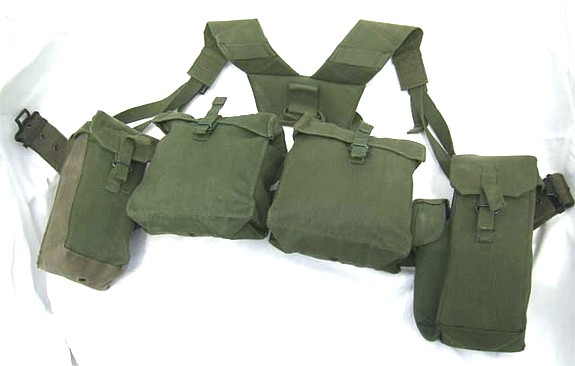 58 Pattern Webbing: This tough British 1958 Pattern Webbing is made of olive drab dyed cotton canvas (best waterproofed to prevent rot). Pictured are the essential components: belt, yoke, two conjoined kidney pouches and two mag pouches (dedicated left and right side pouches) that accept most mags. There's also a back pack, poncho cover (best attached to the yoke above the kidney pouches when the pack's not used), holster, compass pouch and water bottle pouch. Silvermans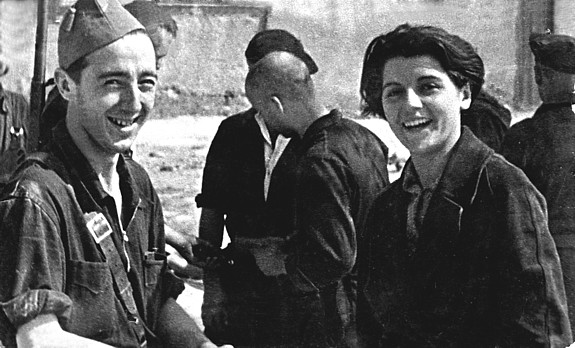 Improvised BDU: A BDU does not have to be one designed specifically for military use, with militia groups having often used improvised uniforms like the black overalls worn by many militia members fighting for the Republican government and democracy against the Nazi backed fascists during the Spanish Civil War, including Alberto and Marina Ginestà (siblings) and their comrades (1936).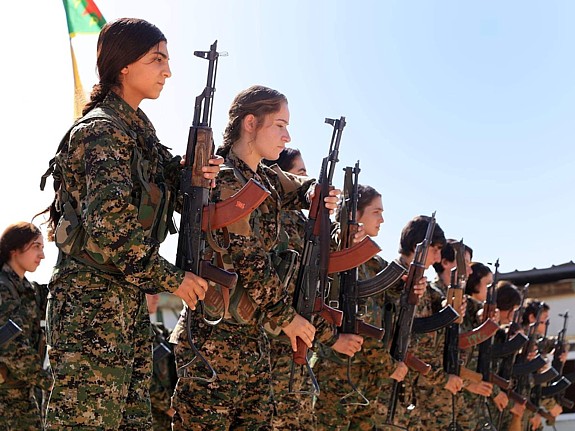 YPJ fighters: The use of the same style BDUs, vests, rifles and stance by these YPJ fighters projects unity and strength, which would increase with the same style headwear and footwear. A uniform provides wearers with a sense of identity, belonging, status and authority, while the standardization of equipment is in general a good thing. It is highly desirable that one type of rifle is commonly used so they all use the same parts, magazines, ammunition and accessories, which also simplifies training.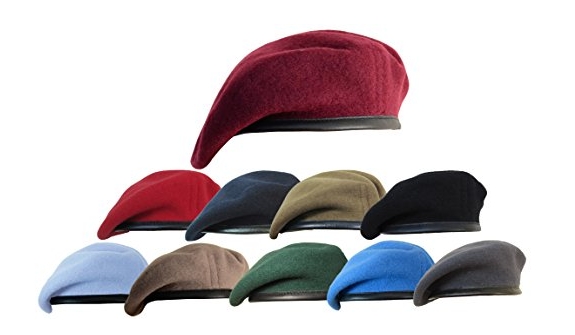 Berets: A military style beret is a smart and inexpensive form of headwear suited to irregular forces. These have a siffiner sewn into them to facilitate the attachment of a metal badge or cloth patch.





Miscellaneous Equipment
The following equipment is also worth considering for some applications.
AN/PVS-14 [ night vision monocular ]
The AN/PVS-14 (11.2 oz, 1x AA) night vison monocular was adopted by the US military in 2000 and can be attached to a bump helmet via the L4-G24 mount from Wilcox Industries. It has primarily been manufactured by Litton Industries (Now L-3 Warrior Systems) and Elbit Systems of America (formerly Harris Night Vision, formerly Exelis, formerly ITT). Wikipedia

AR500 Armor 'P2 - Polyethylene Body Armor' [ armor plate ]
These level III ultra-high-molecular-weight polyethylene (UHMWPE) plates weigh just 3.3 lbs each in the 10" x 12" size (standard shooters cut). These stand-alone plates have positive buoyancy and are multi-hit capable. They are 1.3" thick and carry a 5-year shelf life. They will fit most common plate carriers, though we recommend the 'Ronin Assaulter Lite' from Ronin Tactics. AR500 Armor

Combined Tactical Systems '5210JL Jet-Lite White Smoke' [ smoke grenade ]
The lightweight 5210JL discharges in just 8-10 seconds (compared to 30-40 seconds for conventional smoke grenades like the 5210) so is ideal for rapidly creating a smokescreen for offensive or defensive purposes. If military type smoke grenades are unavailable in your area we recommend a marine distress signal like the Lifesmoke MK9 from Pains Wessex. Combined Tactical Systems

Criss Optical 'MAG-1 Spectacles' [ eyeglasses ]
These tough spectacles are used by the US military and many other armed forces. They were designed to be worn under gas masks by people who need eyeglasses, with the temple area of the rubber retaining strap, where a facemask seals, being paper thin. They come in three eye sizes (46, 48 and 50 millimeter), two strap lengths (short or regular) and two frame colors (black or tan). SafeVision

Garmin 'eTrex 32x' [ GPS navigator ]
A GPS navigation aid is very useful in unfamiliar terrain but should be used in conjunction with a map and compass, never used to replace them as battery powered devices are failure prone. It has an electronic compass, altimeter, can transfer data wirelessly with other units (waypoints / routes / tracks), has a 3-axis compass and barometric altimeter, is waterproof and uses two AA batteries (ideally Lithium). Garmin

Israeli 'M15 Military Gas Mask' [ gas mask ]
The M15 is standard issue for the Israeli Defense Forces. It has large eyepieces provide a very good field of view while its integrated voice meter facilitates verbal communication. It also contains an upgraded exhalation valve for easier breathing, offers compatibility with a drinking tube assembly, and accepts any standard 40 mm NATO filter. Only one size but it has adjustable straps. Army Navy Sales

Leupold 'LTO Tracker' [ thermal imager ]
This thermal imager (30 Hz, 206x156 pixels sensor) is ideal for finding people in total darkness or when vision is compromised by foliage, smoke, dust, bright lights, glare, fog, rain or shadows. A HD version (25 Hz, 320x240 pixels) is also available that has markedly improved long range performance. It uses a CR123 battery which provides more than 10 hours of operation. Leupold

Leupold 'Mark 3HD Rifle Scopes' [ telescopic sight ]
Leupold's affordable Mark 3HD series scopes have all the features needed for sharpshooters. We favor the compact 1.5-5x20mm (13.1 oz, 1x CR2032) as it has a wide field of view at low power (essential for close range use), while 5x is adequate for most long range use. Most have an illuminated reticle (we prefer the simple but versatile illuminated FireDot TMR reticle). Leupold

Ops-Core 'FAST Bump High Cut Helmet' [ lightweight bump helmet ]
This vented non-ballistic bump helmet was designed for recce operations, search & rescue, fast roping and climbing, and has a superb chinstrap suspension system that does a great job in stabilizing NVDs like the AN/PVS-14 (use an Ops-Core Counterweight to balance the helmet). Unvented ballistic helmets are heavy, trap heat, and will not stop rifle bullets at normal engagement ranges. Ops-Core

Revision 'Desert Locust' [ goggles ]
If you want large goggles that can fit over prescription eyeglasses then we recommend the Revision Desert Locust (with clear and tinted lenses) which can also be fitted with prescription lenses via the optional Rx Carrier, and is available in black, foliage green and tan frames/straps (U.S. Military Kit). The Rx Carrier will also fit Revision's Sawfly series protective eyewear. Revision

Ronin Tactics 'Ronin Assaulter Lite' [ plate carrier ]
When fitted with level III or level IV plates this plate carrier provides protection against many rifle rounds. UHMWPE plates like those from AR500 and TSG are best despite their bulk as they trap bullets (which tend to ricochet off hard steel and ceramic plates despite bullet fragment trapping coatings) and are lighter than water by volume so will help you float rather than drag you under. Ronin Tactics

Steiner 'DBAL-I2' [ weapon mounted laser ]
The DBAL-I2 (8 oz, 1x AA or CR123) from Steiner has an IR laser, IR laser illuminator, and visible lasers (red and green) and attaches to rifles via a Picatinny rail. They are best used in conjunction with a head mounted NVD like the AN/PVS-14 night vision monocular. If your opponents have NVD and you don't you can level the playing field by using illumination like road flares. Steiner

Tactical Scorpion Gear 'Level III+ PE Polyethylene Body Armor' [ armor plate ]
These level III UHMWPE plates weigh just 3 lbs each in 10" x 12" Modified shape (Swimmers Shooters cut) or 3.3 lbs each in the standard shape (SAPI cut). These stand-alone plates have positive buoyancy and are multi-hit capable. The 10" x 12" plates (flat, single-curved and multi-curved in SAPI and Swimmers Shooters cut styles) are 1" thick and carry a 5-year shelf life. Tactical Scorpion Gear

Trijicon '3x24 Compact ACOG' [ riflescope ]
This compact, light but tough 3x telescopic sight is ideal for use on assault rifles and is best attached via a quick detach mount. The Ballistic Reticule is the most versatile reticule option (green is best). Tritium is used to illuminate the reticle in low light, while the fiber optic tube boosts the illumination in bright light. Trijicon's RMR reflex sight can be fitted on the top rear of this scope. Trijicon

Trijicon 'Trijicon REAP-IR 24mm Thermal Riflescope' [ thermal riflescope ]
This thermal riflescope (30 Hz / 60 Hz, 640x480 pixels sensor) has a 22° viewing angle gives it an effective recognition range of around 300 meters on a boar sized animal with this sensor. It weighs 24.7 oz (w/o batteries) and uses two CR123 batteries (two hours of operation). It has three viewing modes (black hot, white hot and edge detect) as well as simple and complex reticules. Trijicon

Tru Flare 'Thumb Launcher' [ flare launcher ]
MK-79 style thumb operated pen flare launchers like the Thumb Launcher from Tru Flare can be operated with one hand and are invaluable for signaling purposes in some situations. They are best used with the red and white MK-80 type flares marketed by Tru Flare which reach a height of 150 feet and burn out before hitting the ground in order to prevent fires. Tru Flare USA
. . . . . . . . . . . . . . . . . . . . . . . . . . . . . . . . .